Dat Dog Mural
Cajun Jam mural mural on the side of the Dat Dog in Lafayette, Louisiana. Text translates to "Don't drop the dogs," which is a play on the Cajun phrase "Lache pas la patate / Don't drop the potato."
Plush Claw Shirt
Shirt graphic for the band Plush Claw.
Take You for a Drive
Album cover art for The Rayo Brother's 2017 album Take You for a Drive.
Staring at Maps Part 2
Cover illustration for Sean Bruce's album Staring at Maps Pt. 2.
Union, Justice, Crawfish
Illustration done for Dirty Coast in New Orleans. Swapping out the lil' pelicans on the state flag with a delicious plate of crawfish.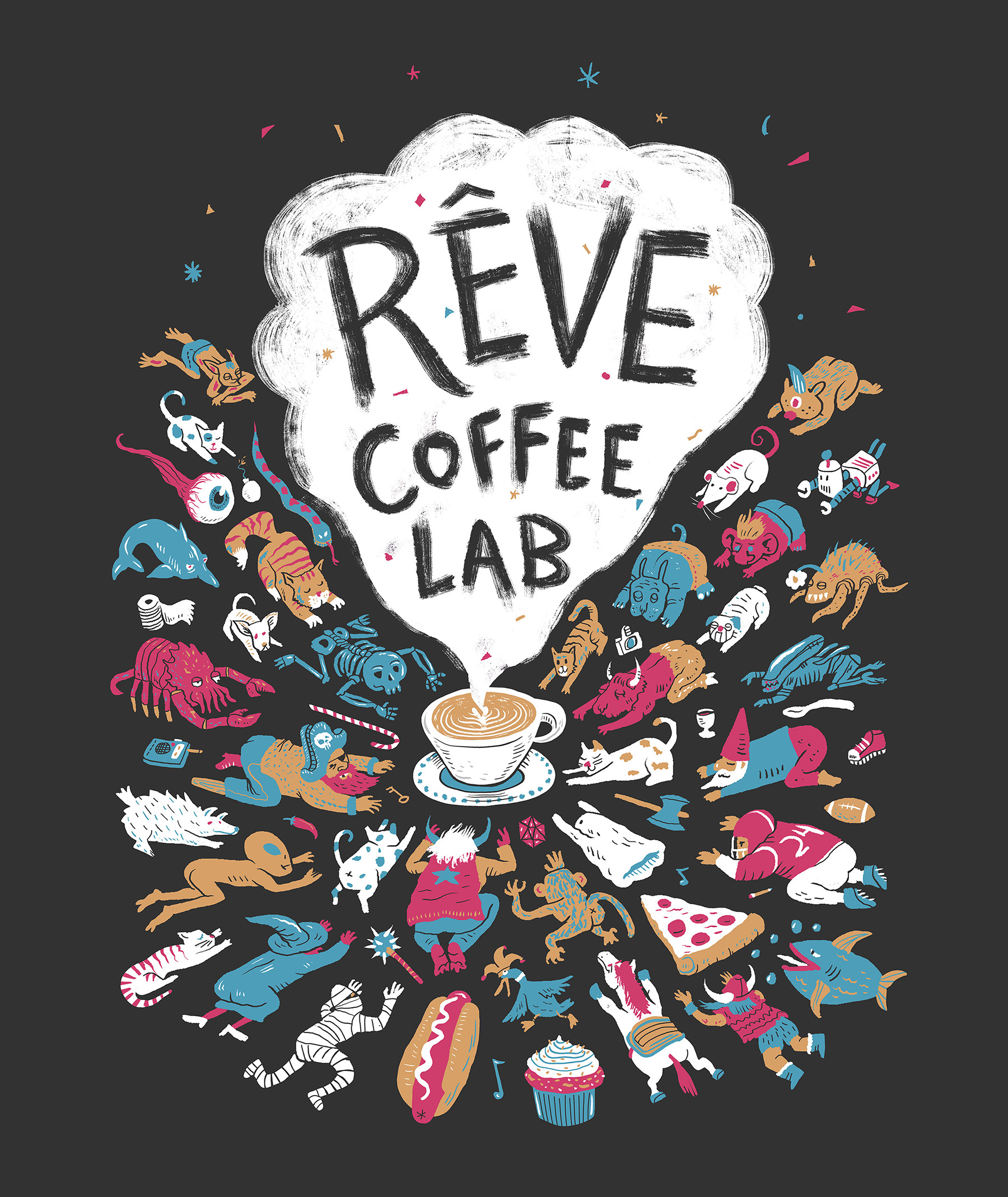 Rêve Coffee Lab Shirt
Shirt design repurposed from the Latte Art Competition poster from a while back.
Locally Portraits
A few of the stylized portraits done for the employees of Locally.com.
GROW
Shirt design for Dirty Coast that features a Rube Goldberg machine comprising the word GROW.
Soap Dad
Illustration commission for a soap website. Targeting the niche "dads who like good soap" market.
NOLA Musicians Clinic
Portrait Series
Stylized portrait series for a man of many hats.
Save the Gulf Walrus
T-shirt illustration done for Dirty Coast.
Zatanic Tee
Pizza pentagram shirt design. Because pizza is damned good.
Garden Tools
Series of garden tools illustrated for Country Roads magazine.
To Catch a Pig
Spot illustration done for an article in Country Roads magazine that talks about boucherie traditions and kids chasing around greased pigs.
Data Portrait
Doggo portrait commission from a friend.
Release the Cracklin
Shirt design for Parish Ink in Lafayette, Louisiana. Plays on the phrase "Release the Kraken!" and the local cajun delicacy of "cracklin" (fried pig bits).
Included in the 2017 Communication Arts Illustration Annual.
Kids' Camp - Time Out Kids
Spot illustration series done for TIme Out New York / Time Out Kids.
New Orleans Po-Boy Fest 2017
Poster and shirt graphic for the 2017 New Orleans Po-Boy Festival
Morceau Overdrive
Illustration for an overdrive guitar pedal.
How to Be a New Yorker
Selects from a spot illustration series for Time Out New York that gave tips on New York living.
Victory Festival
Illustration to celebrate the second annual Victory Festival in Lafayette, Louisiana.
Dollar Shave Club Cartoons
A couple selects form an ongoing cartoon series for Dollar Shave Club's blog and Instagram account.
Bill Murray Portrait
Laser-etched portrait of Bill Murray done for Neutral Ground Workshop.
Crawfish Flag
Bayou St. John
Shirt illustration for Dirty Coast that represents the Bayou St. John area in New Orleans.
Polly Kimball
Illustration for an article in Country Roads magazine that talked about outlaws throughout the history of rural Louisiana. This illustration was of Polly Kimball, who apparently slit the throats of victims in her backyard and let the blood run into her garden. Crazy, right?
The Shed
Spot illustration for an article about nostalgia for a shed. Featured in Country Roads magazine.
Cover Me Bad
Cover artwork for a punk covers album by Red Atlanta.
Emily & Alyce
People and pets portrait for a couple friends.
Pub Stride
SXSW
Spot illustration for a The Current article on Lafayette's Mayor-President speaking at SXSW.
Swipe Left
Spot illustration for a Time Out New York article on Tinder.
Kids' Dinner
Spot illustration for a Runaway Dish book about a charity dinner themed around children's food.